Free Update: New PM PrepCast videos for 2011 PMP Exam Update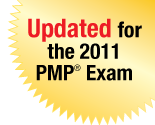 The PMP Exam is changing on August 31st, 2011 and we have just finished updating The PM PrepCast to meet the new standards:

We have added 10 new video lessons (4.4 hours) in which we review the new PMP Exam content. You will receive an overview, learn about all 20 Cross Cutting Knowledge and Skills and we review all the tasks that PMI has identified within the five Domains. For each task we also discuss ethics. The 10 new lessons are all numbered as "E70.xx". These new lessons (in combination with the rest of the PrepCast) will prepare your for the new PMP Exam.
How do I download the new video lessons?
The PM PrepCast is a Podcast and all new videos are delivered to you via your personal podcast feed. Most likely you were using iTunes for the original download. If your PrepCast account is still active, you can start your iTunes, click on "update podcast" and the video lessons will start downloading.
Can I download the new video lessons from the website?
No. You must use iTunes or a similar podcatcher software as explained above.
Who can download these new video lessons?
All customers with active accounts. If nothing happens for you after you click "update podcast" in your iTunes then that means your account is no longer active. This is normal if you purchased > 9 months ago. Write to This email address is being protected from spambots. You need JavaScript enabled to view it. for re-activation, but only if you are planning to take the exam on/after August 31st 2011.
What if I already passed my PMP Exam?
Congratulations! You don't need these video lessons. Go to www.pducast.com instead.
I am taking my exam before August 31st 2011
Ignore these new video lessons. (Watching them won't hurt you though)
I am taking my exam on/after August 31st 2011
Download & watch these new lessons along with all the other PM PrepCast lessons. You are now well on your way to passing the PMP Exam.

We are also working on updating all our other PMP Exam prep products (i.e. Simulator, FlashCards, Formulas, StudyCoach) and will inform our customers accordingly.